Low life…what kind of low life steals from graves?
Over at my neighborhood sanctuary/park/treasure chest, someone or someones has stolen two sculptures, plus urns from a mausoleum. Horror movie threats and jokes aside, taking anything from a grave is immoral as well as illegal.
Wednesday, tooling back on my bike from a patio philosophy session at the downtown Boston Beer Works, I found something amiss. As an abutter to the Forest Hills Cemetery, I walk there, picnic there, and enjoy biking my last leg home in the garden that it is.
Doing so also is considerably safer than taking Hyde Park Avenue south and crossing three lanes of traffic for the left turn at Walk Hill, where the Doughboy no longer is. Besides, a cruise by Lake Hibiscus is ever so much more pleasant.
Alas though, I arrived at the inside of the Walk Hill gate to find it chained tightly and double locked.
In the evenings, it has long been locked. Like good parents leaving a door unlatched for their kids, FH locks a chain with enough play for the strollers and dog walkers (and bicyclists) to squeeze in and out and enjoy the cemetery as the park it has been since it opened as the nation's second garden cemetery in 1848.
This week though, there was a forbidding sign. With no explanation or time cited, the gate is temporarily closed, all day.
Like a good little busybody, I went to the main gate and the office. Staff there looked at each other like they were in a sit-com. Yes, the gate was closed and would be for maybe several weeks. No, they wouldn't say why.
Well, the why is disturbing. They have shut the barn door after the horses have left. Two urns from a grave site are gone, as are two sculptures  from their magnificent public art display.
Apparently their reasoning for the closure is that 1) the thief or thieves avoided the main exit and left through Walk Hill and 2) that they somehow would have noticed and stopped any such attempt at the main gate.
I doubt both. Anyone brazen and lawless enough to steal from a tomb and take public art would not be deterred by an unguarded gate. Moreover, the pieces — two stone urns, the smallish Seated Ceres and smaller Garden's Edge were fairly portable.
Pix Tricks: Click a thumbnail for a larger view. This opens in the same window, so if you want to return, use your brower's back button.
I'd bet they'd all fit in my large trunk of my Volvo sedan.  I'm sure they would in a Crown Vic. The low lives probably didn't even need a pickup or van. (Although looking at their image of Kahlil Gibran's harvest goddess, maybe the base plate would have required a van.  The casting itself is only 28 inches tall. However, even with that, I doubt art thieves would have feared detection at the front.)
Another sculpture was a crowd favorite, the arrogant and indolent rabbit formally known as Garden's Edge. Tim Cherry's piece is 41×21-inches according to his site.
You'd suppose trying to fence two very distinctive and well-known public sculptures will end up tripping up the thieves. I hope so and I bet the cemetery (and likely its insurance company) are working that angle too…although they aren't telling me.
I suppose they're being discreet about this, perhaps befitting a cemetery. Even museums have tried to retrieve stolen art quietly, at least at first. I'm sure a portion of this is not wanting to suggest anything to folk who haven't considered stealing from cemeteries.
We have four other big ones handy — St. Michael, the city-owned Mt. Hope and both old and new Calvary. There must be a special place in hell for those who would steal from them or Forest Hills.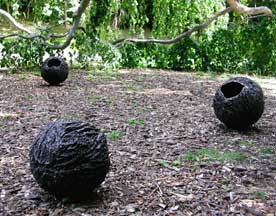 Morning Update:  Just before I published this, the Globe arrived, carrying an article on the thefts. They have stored several other bronzes for safe keeping. They have also offered a $2,000 reward for info leading to the recovery of any of the sculpture. Also, another oh, no, is that near the front gate, they stole Carol Spack's Bark Balls, which I love. The FH folk figure the thieves may sell the art for scrap value.
Second Update:  The Globe may have mangled some details. Word from FH is that the bark balls are in storage to prevent them from being stolen.
Third Update: Oh, recurring sadness. A more definitive report is that the thieves visited at least two days in a row. They took all listed, including the bark balls. Unfortunately, that part of the newspaper piece is true.
| | |
| --- | --- |
| The unwelcome gate at Walk Hill, now tightly padlocked | |
| | The block where Seated Ceres formerly rested. The four holes are clean and wresting it out must not been too much of a challenge. |
| The Hanley mausoleum until recently had a pair of large bronze urns on each side of the steps. There is a pre-theft (a bit dark) image of the front with the urns at Mr. Ducke's photo feed here. | |
| | The urns apparently were pried off from their metal retainers. |
| No longer the site of a bronze bark ball. Kind of like the Boston Common duckling, this set intrigued little children, who loved to poke inside them as well as straddle them. | |
| | The very comfortable looking rabbit, Garden's Edge, used to sit on this block on the opposite side of Lake Hibiscus from Ceres. |
Tags: harrumph, harrumpher, Forest Hills Cemetery, Jamaica Plain, Boston, sculpture, theft